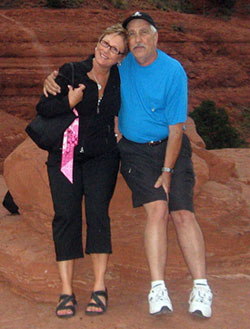 Gail and Steve Turner were both diagnosed with various forms of cancer at different stages in their lives and they survived. Gail beat her cancer at a young age and Steve was a miraculous pancreatic cancer survivor. Together they lived a full life, enjoying their children, grandchildren, work and play. Steve's doctor called him "the luckiest man alive." So, in 2005 when Steve was diagnosed with prostate cancer, the Turner family expected another positive outcome.
Unfortunately, after four years and a truly courageous battle, Steve passed away peacefully in June of 2009. "Throughout his treatment at the [Saint Francis/Mount Sinai Regional] Cancer Center, Steve not only received comprehensive treatment, but also was treated with the utmost respect, kindness and caring by all of the medical staff at the Center. The staff became like our family – we put all of our faith and hope in them, and I know in the end that they felt our pain when there was nothing else that could be done to help Steve," said his wife, Gail.
The Turner family was so grateful for the compassionate care that Steve received at Saint Francis, they established the Steve Turner Fund to provide additional support for the comfort of other cancer patients undergoing treatment at Saint Francis. This fund allows Gail to honor Steve while supporting the Hospital and maintaining the life-long relationship, which began when she was born at Saint Francis and has continued through her volunteer work and time as a patient.
Funds are raised through the annual Steve Turner Memorial Golf Classic which was established in 2010 in memory of Steve who was an avid "scratch" golfer and highly respected by his fellow golfers for his competitive nature, and fun loving approach to the game. This golf classic has allowed the entire Turner family to get involved, with Grandson Michael developing the tournament logo, their daughters and daughter-in-law soliciting gifts for the raffle and handling registration, and all family members recruiting golfers.
---