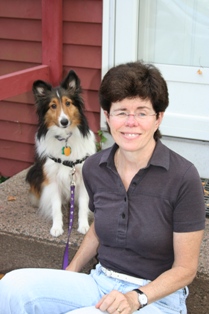 While in a staff meeting at Saint Joseph College, Rebecca "Becky" Caldwell wasn't feeling quite right. She was having difficulty speaking and felt nauseous. Her co-workers immediately called an ambulance which brought Becky to the Saint Francis Emergency Department in August of 2005.
She was in a coma for 18 days after suffering a ruptured brain aneurysm and remained at Saint Francis for six weeks until being moved to Mount Sinai Rehabilitation Hospital. When she arrived at Mount Sinai, Becky could barely speak or eat and had a feeding tube. She had double vision, could not walk without assistance and had a bum right thumb which for the right-hander posed a big problem.
Becky's recovery included eye muscle surgeries in Boston, thumb surgery, outpatient therapy (PT and OT) and speech therapy. She will always be in therapy. Since that life altering day, Becky's life has changed tremendously and not just due to her medical issues. She lost her dear husband Brian in 2011 and due to her challenges and stamina limitations, can no longer work. BUT she has not given up.
Becky used to teach therapeutic horseback riding and decided to utilize a therapeutic riding program for her recovery. She is currently riding once a week from May to October. She and her companion Lilly have also completed their pet therapy training and are currently visiting and bringing joy to many patients. She continues to work with a trainer twice a week and is hoping to resume adaptive rowing once theConnecticut Riversettles down.
Throughout this entire ordeal Becky has remained positive and has learned how important recreational therapy is to someone who cannot go back to work but still wants to be productive and to improve. She still has vision issues and still has balance and coordination problems but Becky is giving back. In addition, she has joined The Valencia Society, the Saint Francis planned giving program, and will leave a gift to Mount Sinai in her will to help them maintain their recreational therapy programs. This is a wonderful gift for the Hospital and a great way of expressing one's gratitude for care received.
We are grateful to Becky for her volunteerism and for her future support.
---