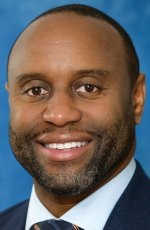 Trinity Health Of New England announced today that Reginald J. Eadie, M.D., M.B.A., will be the system's new President and Chief Executive Officer, beginning on March 26, 2018. Dr. Eadie will replace Roger Spoelman who has served as interim President and CEO since Christopher Dadlez stepped down at the end of 2017.

"The Trinity Health Of New England Board of Directors conducted a national search to identify our next leader," said Kevin J. O'Connor, Board Chair. "Dr. Eadie's successful senior executive leadership and particular expertise in hospital integration and transformation over the past 10 years made him a compelling choice to lead our health system."

Dr. Eadie joins Trinity Health Of New England from Detroit Medical Center (DMC), a $2 billion regional health care system comprised of seven hospitals and affiliated with two Michigan universities. Most recently, Dr. Eadie has served as Senior Vice President and Chief Operating Officer for DMC. Previously, he was President/CEO at a number of DMC's hospitals, including Detroit Receiving, Harper University, Hutzel Women's and Detroit Sinai-Grace. He also served as Chief Medical Officer at Harper University and Hutzel Women's Hospitals.

"For our colleagues and the people we serve in New England, Dr. Eadie will bring his vision, compassion and commitment to people-centered care," said Benjamin Carter, Executive Vice President at Trinity Health. "Dr. Eadie is a steadfast champion for better care, better quality and lower costs in U.S. health care, and Trinity Health is pleased he is on our team."

"Trinity Health Of New England is a regional leader with a remarkable team and a strong future," said Dr. Eadie. "I look forward to working with the entire community to advance the Trinity Health Mission in New England."

Dr. Eadie is certified by the American Board of Emergency Medicine and earned his medical degree from Wayne State University School of Medicine. He holds an Executive Master in Business Administration from Michigan State University Broad Business School and a Bachelor of Science degree in biology and chemistry from South Carolina State University. He is a published author of books and articles on the subject of obesity and has been nationally recognized by numerous organizations for his leadership excellence.
---