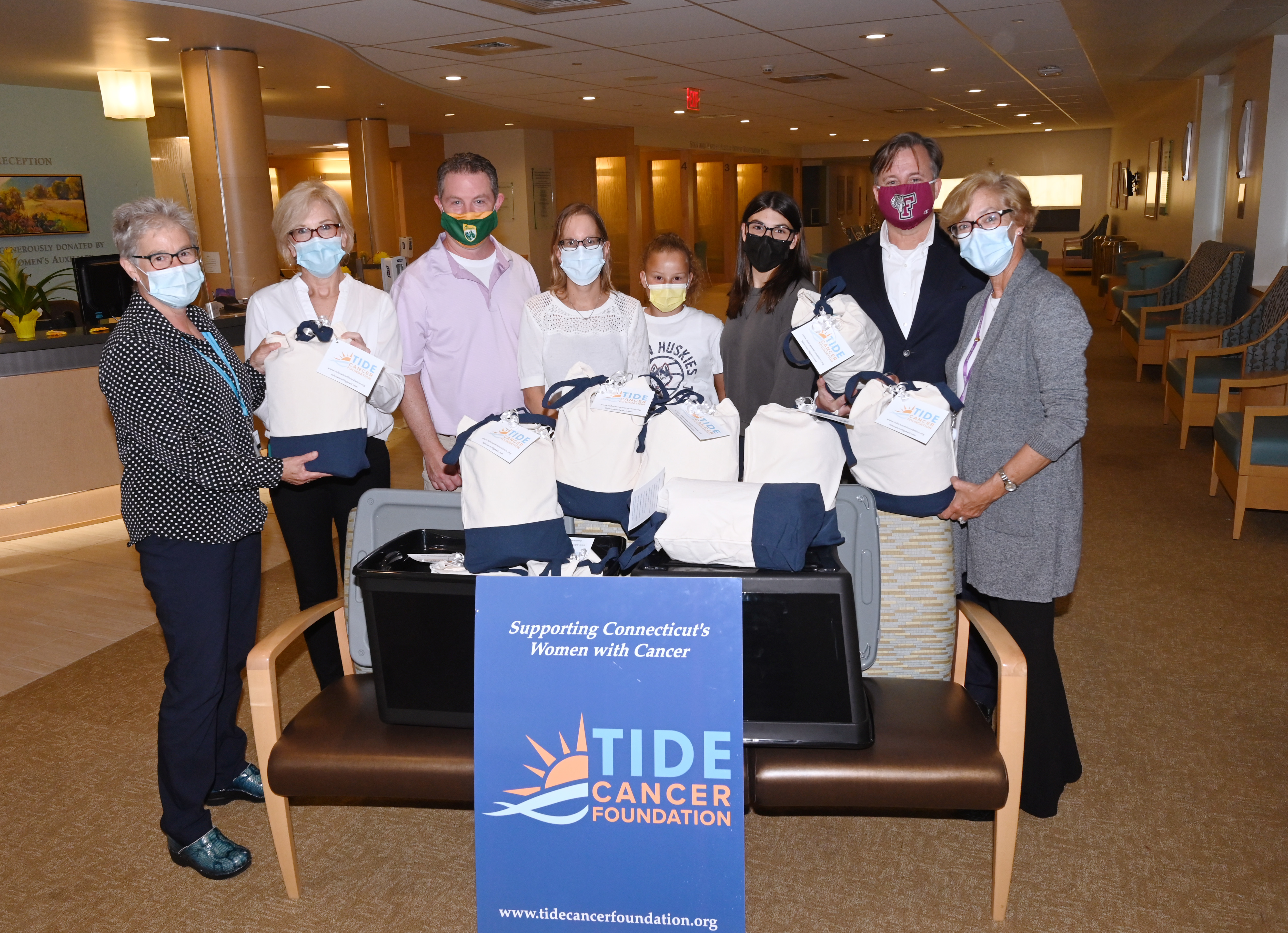 Last week, Gina, John and daughter Caroline, along with friends Dave, Anne and Megan, delivered comfort bags to Sue Crawford, social worker at the Karl J. Krapek, Sr. Comprehensive Women's Health Center. They are on a mission to pay forward the generosity bestowed upon them by offering women with cancer the same support and sense of community that uplifted them.
Their story began in 2005, when Gina was diagnosed with acute lymphoblastic leukemia. She was newly married, a high school teacher and tennis coach, a healthy and active member of her community. After chemotherapy, radiation, and the ultimate gift of a bone marrow donor led to her recovery. Fifteen years later, this time a mother, teacher, Girl Scout troop leader, and cancer survivor, she was diagnosed with breast cancer.
Out of challenge comes fortitude, out of grief comes hope. What helped her and her family through her treatment was the kindness and generosity of others. Filled with gratitude and faith, she and her husband were inspired to help others who are diagnosed with cancer. After her stem cell transplant, they worked with state legislators and advocates to pass CT House Bill No. 5032, An Act Requiring Health Insurance Coverage for Bone Marrow Testing.
Creating The TIDE Cancer Foundation was the next chapter in their mission to help cancer patients. The organization's name is inspired by the healing power of the ocean. The sights and sounds of the sea provide comfort and serenity. The ebb and flow of the tide reminds us that renewal and rejuvenation are part of the cycle of life, and that each of us is part of something magnificent and wonderful, something life-giving and purposeful. To learn more about their organization, please visit their website, www.tidecancerfoundation.org.
---