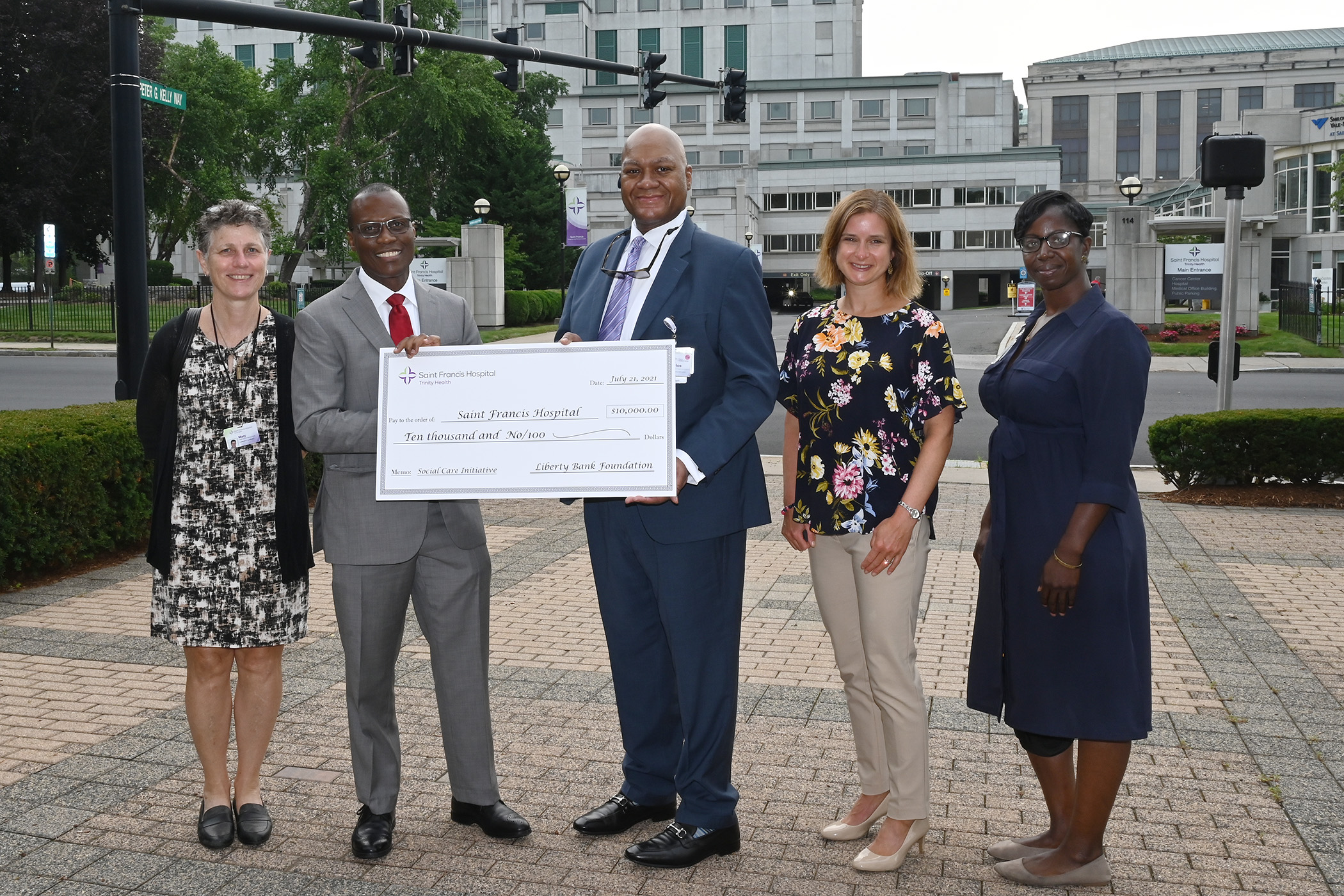 Saint Francis Hospital recently received $10,000 from Liberty Bank. This gift will support the hospital's Social Care Initiative which focuses on reducing health disparities. "We are grateful to Liberty Bank for their support, which will assist us as we work in collaboration with community-based organizations to take a holistic approach to patient care and support resiliency in the face of public health disasters like COVID-19," stated Thomas Burke, BPharm, MBA, President, Saint Francis Hospital.
It is estimated that socioeconomic factors and the physical environment account for up to 70 percent of a person's health and wellbeing. Saint Francis Hospital is piloting ways to better identify and address the social factors that influence health. The system is being piloted in Safety Net Clinics, the Greater Hartford Family Advocacy Center, the Food Bank, and all community outreach programs where they have already begun screening patients for their social needs. Patients who would benefit from extra support are referred to a community health worker and connected to local resources. This grant will provide patients with direct assistance to meet their most immediate and pressing needs.
"We have identified several social factors that lead to health disparities such as access to healthy food, stable housing, and transportation. This financial support will aid us in addressing the root causes of health disparities in our community and help patients navigate and access the best supports," stated Carlos Brown, Regional Vice President, Community Health & Well-Being.
"As a community bank, our responsibilities extend far beyond providing exceptional banking experiences. It also means being a bank that leads with kindness and partners with organizations focused on helping individuals and families in our communities thrive," said David W. Glidden, President & CEO of Liberty Bank. "That's exactly what Saint Francis Hospital is doing through their Social Care Initiative – removing barriers to help everyone achieve their full health potential regardless of their social position or socially determined circumstance. And it comes at the right time."
"We are grateful for this award from Liberty Bank which will allow our teams to connect social and community care, which is vital to closing gaps in health outcomes and advancing health equity," stated Timothy R. Stanton, Regional Vice President of Philanthropy and Chief Development Officer, Saint Francis Foundation.
---