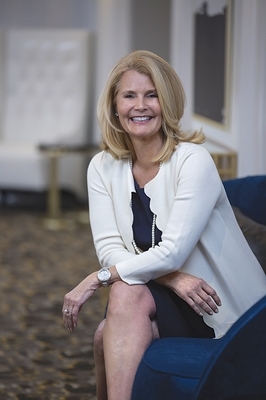 Lynn Rossini's secret to success in any profession is to execute your duties with passion and to build strong relationships in every aspect of your career.
"Be very passionate about what you do; and it's got to be sincere," Rossini said. "It's contagious, and people who work for you feel that. And I think that culture comes from the top and permeates throughout the entire organization."
Rossini embraces this philosophy in her role as vice president and chief development officer of the St. Francis Hospital and Medical Center Foundation. She was appointed to her post four years ago and is the first woman in the hospital's history to hold this position.
Rossini initially joined the St. Francis Foundation, which serves as the fundraising arm of the hospital, in 2009. She brought with her more than 25 years of experience in the development field, including stints at My Sisters' Place, YMCA and United Way.
In her present role, Rossini is responsible for expanding and promoting St. Francis' healing mission through relationship building, community visibility and fundraising.
During her tenure, Rossini has consistently exceeded the hospital's fundraising goals. At the end of last fiscal year, Rossini and her staff closed out the most successful year in the Foundation's history with contributions totaling over $12.1 million.
One of the Foundation's most ambitious efforts is focused on raising funds to expand St. Francis' existing cancer-care infrastructure. The primary goal is to improve access to state-of-the-art treatment protocols, both on the main campus and throughout the Greater Hartford region.
The project has already started to progress in stages, beginning with the newly renovated inpatient oncology pavilion. Subsequent phases will include the creation of an access center in Glastonbury, an oncology and medical center in Enfield and an expanded cancer center within the next few years.
"There are lots of moving pieces," Rossini said. "We are trying to bring care closer to home for our patients and we are laser focused on what we are trying to accomplish."
According to Rossini, her team has raised over $23 million for the overall project to date.
"Our goal is $30 million, and I think we will exceed that," she said. "Our progress would not be possible without our partners in the community."
Rossini is also adamant that her colleagues receive equal credit for their contributions to the Foundation's achievements.
"It's not a one-person show, that wouldn't be fun or doable," Rossini said. "I have a great team of people that make good things happen and I'm just so proud of them."
Democratic style
Catherine Limansky, director of marketing and communications for Trinity Health Of New England, praised Rossini for the effectiveness of her management style.
"Lynn is a very outgoing and positive leader with a democratic style that encourages higher productivity, better contributions from her team members and increased group morale," Limansky said.
Limansky said Rossini's ability to nurture strong relationships with not only her staff and Foundation board members, but the community as a whole has played a major role in her success.
"The relationships that Lynn has built during her time at the helm of the Foundation are truly her most significant contribution," she said. "With all of the work she does, all of the relationships she builds, she is making a difference."
According to Limansky, Rossini and her team have developed partnerships with more than 8,000 donors, corporations, foundations, physicians, employees and event supporters.
Due to this achievement, the Foundation's two signature events, Swing and Miracles, experienced record-breaking attendance and surpassed fundraising goals last year.
"We've been able to increase philanthropy by about 500 percent," Rossini said. "But for me, it's not the dollars. For every dollar that we raise, l envision a person, a patient, a family. I envision someone being helped."
Rossini said she views her career as not just a job, but as a conduit to serving others and improving their quality of life.
Limansky echoed this sentiment, explaining that the funds raised by the Foundation provide vital equipment, research dollars, patient-centered care, family support, education, food for the hungry and critical care to the surrounding community.
"To know that I have made a person's life a little bit better, that I've created a beautiful and healing environment for them; all of those things are possible because of philanthropy," Rossini said. "I just feel really good about that and thank God for giving me the opportunity to do good work."
Q&A
What are your keys to maintaining business success?
A constant thirst for knowledge and building trusting relationships is critical in maintaining business success.
With 10 service lines and hundreds of programs and services, we must be able to understand and articulate the life-saving role St. Francis Hospital and Medical Center plays in support of patients and the community.
Building trusting relationships is paramount. Our donors are 'our partners in care' and they want to see their investments at work.
We must be good stewards of their generous gifts.
What are your keys to maintaining work/life balance?
Oh boy, that's a tough one but I am working on it. When you love your job, it does not seem like work.
However, I do understand the importance of a work/life balance. I love my family, especially my daughters, Katie, Lisa and Melanie (and my dog Finnigan).
I enjoy the outdoors, biking, traveling, the beach, and great food.
---