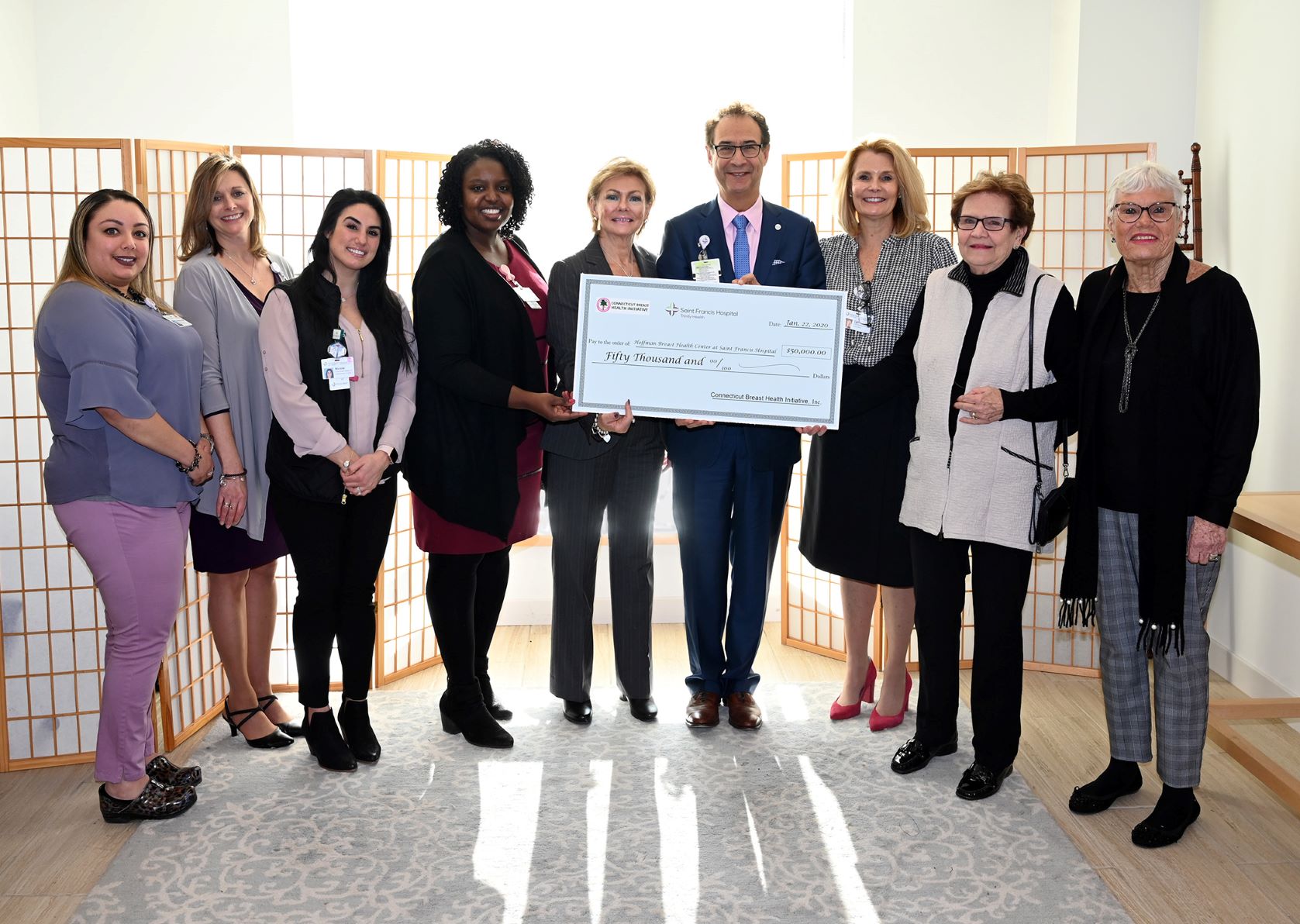 The Connecticut Breast Health Initiative, Inc. has awarded the Saint Francis Hoffman Breast Health Center a one-year $50,000 grant to support its community outreach education program. "CT BHI is pleased and proud to award grant dollars to Saint Francis Hospital to carry out their impressive outreach and education program. Supporting outreach and education that improves screening and early breast cancer diagnoses is fundamental to our mission," stated Nancy M. Kroeber, Grants Chair, CT BHI.
The outreach education efforts are focused on reducing the rates of late-stage breast cancer diagnoses within Saint Francis' service area's low-income and medically under-served population of women. There is a need to educate more women from the under-served population of the importance of regular screening for breast cancer. There is also a need to help these women make and maintain a connection with the healthcare system. Women from the target population die at disproportionate rates from breast cancer due to late diagnoses. These women are predominantly African American and Latina.
Breast Health community education events will be held in low-income neighborhoods in gathering places such as churches, community centers, municipal buildings, health fairs, and cultural social clubs. Breast Health Center staff will assist women in scheduling an appointment for a mammography at the end of each outreach education event. Saint Francis' Breast Health outreach education community events have been successful in assisting low-income women form a connection with the healthcare system. The grant from the Connecticut Breast Health Initiative will enable Saint Francis Breast Health to reach hundreds of additional underserved women over the next year.
Caption: Blanca Sargisian, Breast health Program manager,; Sharon A. O'Brien, assistant director, Comprehensive Women's Health Center and Integrative Medicine; Nicole Perez, Imaging coordinator; Eva Simon, Breast health Community Outreach Worker; Joyce Bray, president, CT Breast Health Initiative Board of Directors; John F. Rodis, MD, MBA, president, Saint Francis Hospital; Lynn B. Rossini, regional vice president and chief development officer, Saint Francis Foundation; Judy Donofrio, CTBHI Board Member and Grants Committee member; Mary Jane Parlow, CTBHI Grant Committee member
---