Each Memorial Day weekend, Cedar Hill Cemetery remembers those who were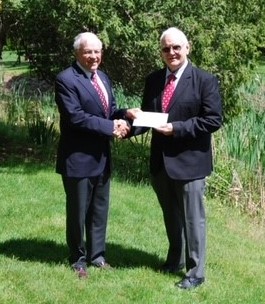 lost in the past year. Unfortunately, due to COVID-19, these celebrations of life have not taken place. In lieu of the event, Mary Ann Hawthorne, Cemetery Executive Director, and the board, chaired by William A. MacDonnell, D.D.S, wanted to honor those lost by making gifts to area hospitals. Dr. MacDonnell presented former Saint Francis Hospital, Chief Medical Officer, Dr. Rolf W. Knoll a check for $4,000 to honor the health care heroes who have confronted COVID-19 for more than a year and continue to keep our communities safe. We are truly grateful for this support which highlights the incredible compassion and care our Saint Francis Hospital colleagues have exhibited since early last year.

Established in 1864, Cedar Hill Cemetery in Hartford, encompasses 270 acres and serves as an incomparable sanctuary for each of the 35,000 individuals buried there, as well as for memorial artworks, Hartford history, welcomed wildlife, and the many visitors who come to remember loved ones and tour the grounds. The Cedar Hill Cemetery Foundation was established to preserve the art, history and natural resources of Hartford's historic Cedar Hill Cemetery in perpetuity.
---