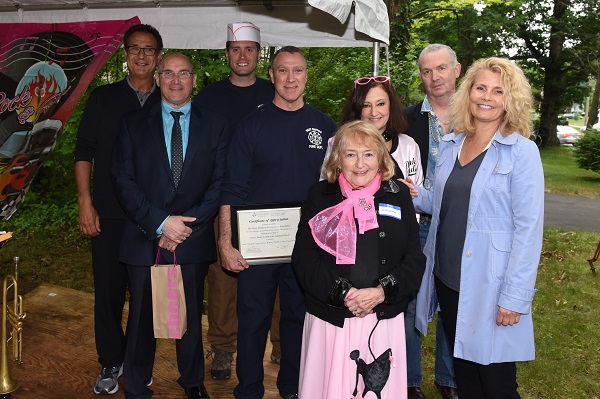 Barbara Gordon, Saint Francis Foundation board member, West Hartford resident and cancer survivor along with son Andrew and daughter Tracy Fox, RN, Saint Francis Hospital, celebrated "The Fabulous Fifties" at their 11th annual backyard party benefiting the Karl J. Krapek, Sr. Comprehensive Women's Health Center at Saint Francis.
Mrs. Gordon organized her first event in 2008 after crediting doctors at Saint Francis with saving her life. Barbara wanted to do more than just share her experience; she wanted to give something back. Over the past eleven years, her parties have raised almost $200,000 for the Center.
The event featured music by Dan Gable and The Abletones Band, a teacup raffle, refreshments donated by HDI along with donated food items which were prepared and served by members of the West Hartford Fire Fighters IAFF L1241.
Pictured above: l to r – John F. Rodis, MD, MBA, FACHE, president, Saint Francis Hospital and Medical Center; Allan Mayer, DO, gynecological oncology; Captain Jarred Smith and President Joe Robidoux, West Hartford Firefighters IAFF 1241; Tracy Fox; James Frank, MD, surgeon; Lynn Rossini, vice president and chief development officer, Saint Francis Foundation and front and center, Barbara Gordon.
---